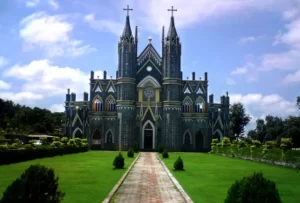 This basilica, erected in 1845 and dedicated to St. Lawrence, is commonly referred to as the Attur Church and is a well-liked destination for pilgrims of all religions. While the majority of them are from the Dakshina Kannada region, some go from other countries to pray for healing or favours. This church, which is known for miracles and is situated in Attur, a village outside of Karkala in the Udupi district (approximately 34 kilometres from Udupi city), draws a large number of visitors each year.
Saint Lawrence, the protector of the basilica, was one of the seven deacons who served under Pope Sixtus II in ancient Rome. In 258 CE, during Valerian's persecution of Christians, he was martyred.
According to legend, the Christians of this locality, who were freed from Tipu Sultan, the tyrant king of Mysore from 1780 to 1799 CE, returned home from captivity and rebuilt their houses and churches. They were carrying with them a 1-foot tall statue of St Lawrence and prayed to him to help select a suitable place for the new church. They stopped at a spring at the foot of the Parpale hills to drink from it but after placing the statue on the ground, they were unable to lift the saint's likeness and it was almost as if it had taken root. Seeing this, the priest who was leading the group said, "Oh St Lawrence, if you have chosen this spot then we will build a church in your honour at this place." It was only after this promise that the party was able to lift the statue.
This is one of the best places to visit in Udupi in January as the basilica is also the centre of the popular Attur Festival, celebrated annually during the feast of St Lawrence. Thousands of people gather here every year, and the sprawling open grounds before the entrance of the basilica are dotted with food and game stalls. During this time, a popular candy called thamde gule or Bella candy is sold. This is a Mangalorean style jaggery pop of different colours and is seen in abundance during religious festivals in Udupi and Mangalore.