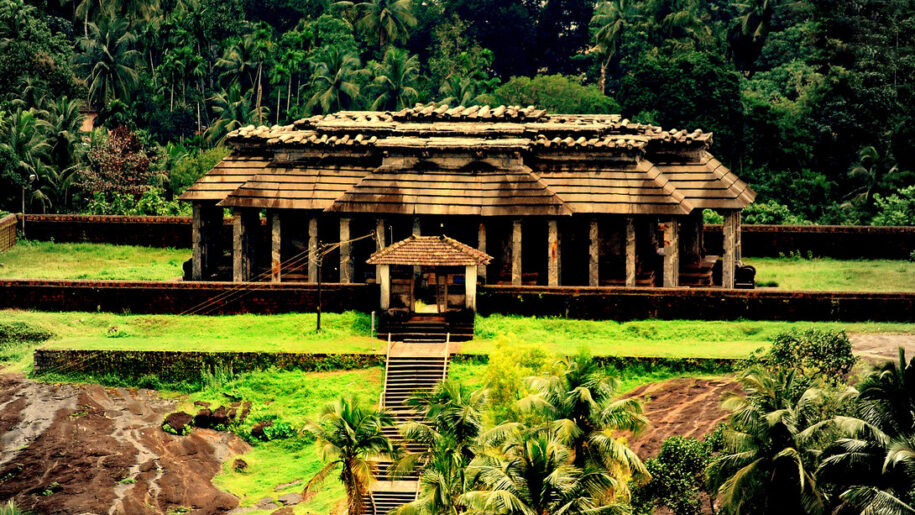 The Chaturmukha Basadi, located in Karkala, Karnataka, India, is a magnificent example of Jain architecture and a significant religious site for the Jain community. This shrine, dedicated to Lord Parshwanath, is a testimony to the skill and creativity of ancient Indian architects and sculptors.
The name "Chaturmukha Basadi" means "four faced temple," and refers to the four identical entrances that lead to the central shrine. Each entrance is adorned with intricate carvings and sculptures, depicting scenes from Jain mythology and daily life. The central shrine is a square-shaped chamber with a large statue of Lord Parshwanath, surrounded by smaller statues of other Jain Tirthankaras.
The Chaturmukha Basadi was built in the 14th century and is one of the largest Jain shrines in the region. The temple is made of granite and is an excellent example of the Hoysala architectural style. The intricate carvings and sculptures on the temple walls and pillars are evidence of the high level of craftsmanship that was present in ancient India.
The temple's architecture is also notable for its use of symmetry and balance, with the four entrances and central shrine forming a perfect square. The roof of the temple is supported by four large pillars, each carved with intricate designs. The carvings on the walls depict scenes from Jain mythology, including the life of Lord Parshwanath and other Tirthankaras.
One of the most remarkable features of the Chaturmukha Basadi is the monolithic pillar, known as the "Manastambha." This towering pillar, located in front of the temple, is carved with scenes from Jain mythology and is a symbol of Jainism's strong cultural heritage. Another interesting location to explore St. Lawrence minor basilica
The Chaturmukha Basadi is not only a significant religious site for the Jain community but also a popular tourist destination. Visitors from all over the world come to admire the temple's magnificent architecture and the intricate carvings and sculptures that adorn its walls. The temple is also considered a masterpiece of Jain architecture, and a testament to the skills of ancient Indian architects and sculptors.
In conclusion, the Chaturmukha Basadi is a magnificent example of Jain architecture and a significant religious site for the Jain community. Its intricate carvings, magnificent architecture, and rich cultural heritage make it a must-visit for anyone interested in ancient Indian history and architecture. Read more about Chaturmukha Basadi
Quick Facts about the Chaturmukha Basadi
Main Deity: Yakshi Padmavati and 24th Thirthankara
Best Time to Visit: October to March
Temple Timings: 8:00AM to 6:00PM
Entry Fee: NA
Visit Duration: 1 hour
Address: Fisheries Office-Dhana Shala Rd, Karkala – 574104 (MAP)