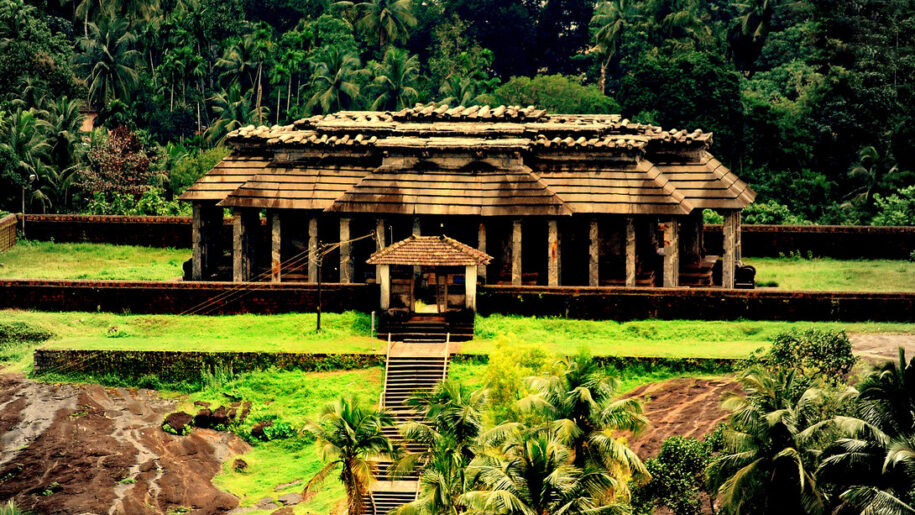 At a distance of a little over 60 kilometers from Mangalore, Karkala is an important Jain pilgrimage site. The town has a number of historical and religious landmarks of which the Chaturmukha Basadi is the most well-known. The temple gets its name from its unique architectural plan wherein the temple is open from all sides.While this temple may not be as ornate as other Hoysala tempels, the simplicity and symmetry of this temple set it apart. The Chaturmukha Basadi stands on a raised stone platform and features solid granite slabs as its roof. One of the reasons the temple is believed to have 108 pillars is because this number adds up to 9 which is thought of as the perfect Vedic number. Each of these 18-foot tall pillars has been carved out of a single granite block. The pillars feature intricate carvings of Jain and Hindu deities.
Quick Facts about the Chaturmukha Basadi
Main Deity: Yakshi Padmavati and 24th Thirthankara
Best Time to Visit: October to March
Temple Timings: 8:00AM to 6:00PM
Entry Fee: NA
Visit Duration: 1 hour
Address: Fisheries Office-Dhana Shala Rd, Karkala – 574104 (MAP)
Overview of the Chaturmukha Basadi
The construction of this temple is attributed to more than one person. Some believe that the Chaturmukha Basadi was built towards the end of the 16th century by the Santara dynasty's Immadi Bhairarasa Vodeya.
Others attribute its design and construction to Queen Channabhairadevi. According to another legend, the temple dates back to the 15th century when it was built by Vir Pandyadeva, a Jain King. This is probably the most popular Jain Basadi in Karnataka and is visited not only by Jain pilgrims but by followers of other religions as well. The monument is protected under the Archaeological Survey of India.
The Architecture of the Chaturmukha Basadi
This temple has been designed in a way unlike any other. Broadly speaking, it follows the Vijaynagara style of architecture. It has been constructed entirely of Granite. The temple has 4 identical doorways in the north, south, east and west that all lead into the Garbhagriha. A seated form of the Tirthankaras is carved into the lintel of the northern, eastern and western doorway.
The southern doorway features a carving of Gajalakshmi on the lintel. This is flanked by sculptures of bedecked dvarapalas. The passage around the Garbhagriha features 108 stone pillars.  Niches in the wall of this passage also contain sculptures of other Gods and Goddesses.
The Garbhagriha houses four black stone statues of the 24th Tirthankara facing the 4 doorways. An idol of the Yakshi Padmavati, Malli, Ara, and Suryata are also housed in the Garbhagriha.