Caravan Park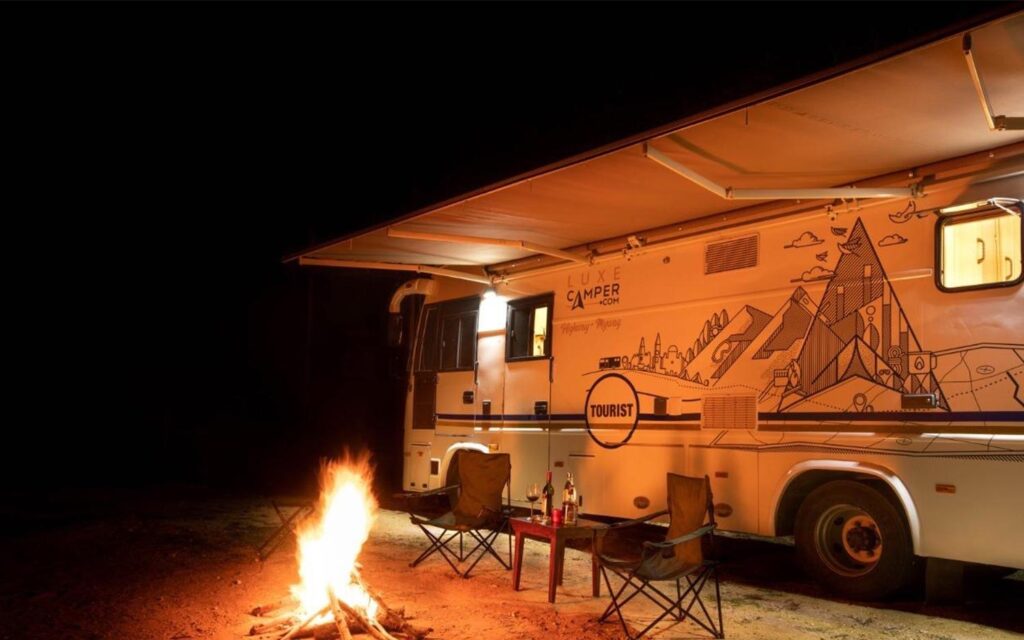 Nestled amidst Karnataka's stunning landscapes in Udupi District, Kalavady Farms is your new haven on the road. We're dedicated to creating a welcoming environment for caravan enthusiasts, whether you're a seasoned traveler or embarking on your maiden caravan voyage. The best part? Your stay with us is absolutely free for your first visit.
We are thrilled to announce the opening of Kalavady Farms, a haven for travelers journeying through Karnataka with caravans. At Kalavady Farms, we believe in fostering a sense of community and adventure, and we want to provide an opportunity for travelers to experience the beauty of coastal Karnataka.
Nestled amidst the picturesque backdrop of western ghats, Karnataka, Kalavady Farms is designed to cater specifically to caravan enthusiasts. Whether you're an experienced road-tripper or embarking on your very first caravan adventure, our farm offers a welcoming and serene environment for you to relax and rejuvenate. With spacious parking areas, amenities, and breathtaking natural surroundings, we aim to make your journey through Karnataka an unforgettable one.
At Kalavady Farms, we understand the joy of discovering the hidden gems of this beautiful state, from its lush forests to its historical sites and vibrant cultures. By providing complimentary accommodation and facilities for caravan travelers to Karnataka, we hope to encourage more people to explore this region's rich heritage and diverse landscapes.
So, come and be a part of this exciting experience. Experience the freedom of the open road and the warmth of our hospitality, all without worrying about the costs. Kalavady Farms is here to make your caravan journey in Karnataka an extraordinary and budget-friendly adventure. We can't wait to welcome you to our farm and be a part of your unforgettable caravan experience.
Amenities That Enhance Your Journey: Our farm offers spacious parking areas for your caravan, ensuring you have a secure and convenient place to set up camp. And that's not all – we provide access to clean, well-maintained common bathrooms and other essential common areas, so you can relax in comfort.
Delicious Dining Options: Hungry after a day of exploring Karnataka's wonders? Order from our in-house kitchen and have delectable, freshly prepared food delivered right to your caravan. Our culinary offerings are a treat for your taste buds, ensuring you stay energized for your adventures.
At Kalavady Farms, we understand the allure of discovering Karnataka's hidden treasures, from its dense forests to its rich history and vibrant cultures. By offering a complimentary stay for your first visit, we hope to inspire more travelers to explore the diverse landscapes and experiences Karnataka has to offer.
So, make Kalavady Farms your next caravan stopover in Karnataka and embark on a journey like never before. We're here to make your caravan adventure convenient, cost-free, and memorable. Join us and be part of an unforgettable caravan experience in the heart of Karnataka!
As passionate travelers ourselves, we know that the journey is as important as the destination. Over the years, our adventures have introduced us to countless fellow travelers, many of whom are on tight budgets, armed with nothing but their backpacks and tents. We've heard their stories of struggles, particularly when it comes to finding a safe and welcoming place to pitch their tents and access clean, hygienic bathrooms.
Driven by our love for travel and our desire to create a haven for fellow adventurers, we are thrilled to introduce an exciting new offering. At our farm, we understand the unique needs of budget-conscious travelers, and if you are planning to travel to the Udupi district as a backpacker, we're here to provide the solution you've been searching for.
Your Affordable Adventure Awaits: For just a minimum budget of 200 rupees per person, you can make the most of your journey like never before. We invite you to take advantage of our generous hospitality, where you can find a safe and picturesque spot to pitch your tent, ensuring a peaceful night's rest under the stars.
Clean, Hygienic Bathrooms: We know how essential clean and hygienic bathroom facilities are on the road. That's why we provide you with access to immaculate common bathrooms, ensuring your comfort and well-being during your stay.
A Warm Welcome Awaits: Our farm is not just a place to rest; it's a place to connect. We're avid listeners, eager to hear your travel stories and experiences. Our passion is to meet and greet fellow travelers, to swap tales of adventures, and to create a community of like-minded explorers.
At our farm, it's not just about providing a budget-friendly solution; it's about fostering a sense of camaraderie among travelers. Whether you're on a solo adventure, with friends, or part of a larger group, you're welcome here. We're here to make your journey memorable, convenient, and, most importantly, affordable.
So, if you're ready to experience travel like never before, come join us at our farm. Embrace the spirit of adventure, make new friends, and create lasting memories, all while staying within your budget. Kalavady Farms is your gateway to affordable exploration, and we can't wait to welcome you to our vibrant community of travelers.