Explore Murudeshwar Kollur Mookambika & Udupi
Kalavady Farms - One Step Closer To Nature.
A unique farm living experience & pet-friendly stay for nature lovers & spiritual seekers in Byndoor a charming little town sharing its border between Udupi district and Uttara Karnataka district. Opting for Kalavady Homestay allows you to explore and appreciate the attractions and natural beauty of both districts, providing a truly unique and enriching experience. 
After getting numerous requests from our guests for fresh home-cooked food, we are happy to announce that we have opened a house kitchen to make your farm living experience more authentic.
Farm stay consists of eco-friendly cottages With a Private a Swimming Pool cascading between Western Ghats, Mookambika Wild Reserve & Vattinane Beach. During your stay, you can enjoy the sounds of nature and gaze at the night sky full of stars. Nestled within the lush expanse of approximately 50 acres of farmland managed & cultivated by the hard work of dedicated farming families in Byndoor. Immerse yourself in the serene and secluded atmosphere of our private farm, where you can bask in tranquility and privacy.
Indulge in the captivating surroundings, encompassing revered temples, pristine beaches, and the breathtaking beauty of the Western Ghats. Experience the harmonious blend of spirituality, natural wonders, and peaceful seclusion during your stay at our farm.
Kalavady homestay in Udupi is ideally situated right in the center  point between Kundapura, Kollur Mookambika Temple, and Mudurdeshwara. Staying at Kalavady Homestay gives you access to Kollur Mookambika Temple, Murudeshwara Temple, Chitrapura Mutt, Kodachadri Hills base point,Maravanthe beach, Someshwara/ottinene beach Byndoor, Kodi Beach, Kundapura, and Hadin Eco Beach, all of which are within 25-minute drive away. 
And within a 1-hour drive of this homestay in Udupi are Malpe Beach, Shri Krishna Matt, St. Mary's Island, Idagunji Ganapati Temple, Anegudde Vinayaka Temple, and Sri Sigandur Chowdeshwari Temple, Sri Shankaranaarayana Temple, Kundapur, Shree Vinaayaka temple Gudi – Guddattu and many more off beat locations
This unique eco stay gives you access to privileges that the city life has deprived you of. Touch the earth, feel the freshness and sing in chorus with the birds. Explore unblemished countryside life of Byndoor.
Kalavady Homestay with Swimming Pool in Udupi is a great respite from the hustle and bustle of city life for those who love natural beauty and prefer a slower pace of life.  Conveniently situated in Byndoor, Udupi District, this property puts you close to attractions such has Ottinene beach, kollur Mookambika Temple, Murudeshwara temple, Sri Chitraapura Matha, Marvanthe Beach, Kundapura, Shri Krishna Matt, Kodachadri Hills, Malpe beach & unexplored places in the tiny town of Byndoor around the farmhouse.
A simple yet tranquil retreat, where we embrace the wisdom of nature's gentle pace and encourage you to take a break from the chaos of modern life. Our space is designed to offer you the opportunity to do absolutely nothing and find peace in the moment.
For those who love to unwind indoors, our cozy cabins provide the perfect sanctuary to read, write, or simply lounge by the pool while gazing at the breathtaking views of the farm through our wall-to-wall windows. Outside, you'll be surrounded by a lush cashew plantation, where you can bask in the shade of these beautiful trees and soak up the natural beauty around you.
Our fully furnished farm stay experience is modest yet comfortable and will allow you to appreciate the simple pleasures of life while breathing in the pure air from the surrounding plantations. Whether you're seeking a calm and relaxing getaway or a chance to reconnect with nature, we've got you covered. Book your stay now and get ready to experience the simple pleasures of life, living in the middle of a cashew plantation.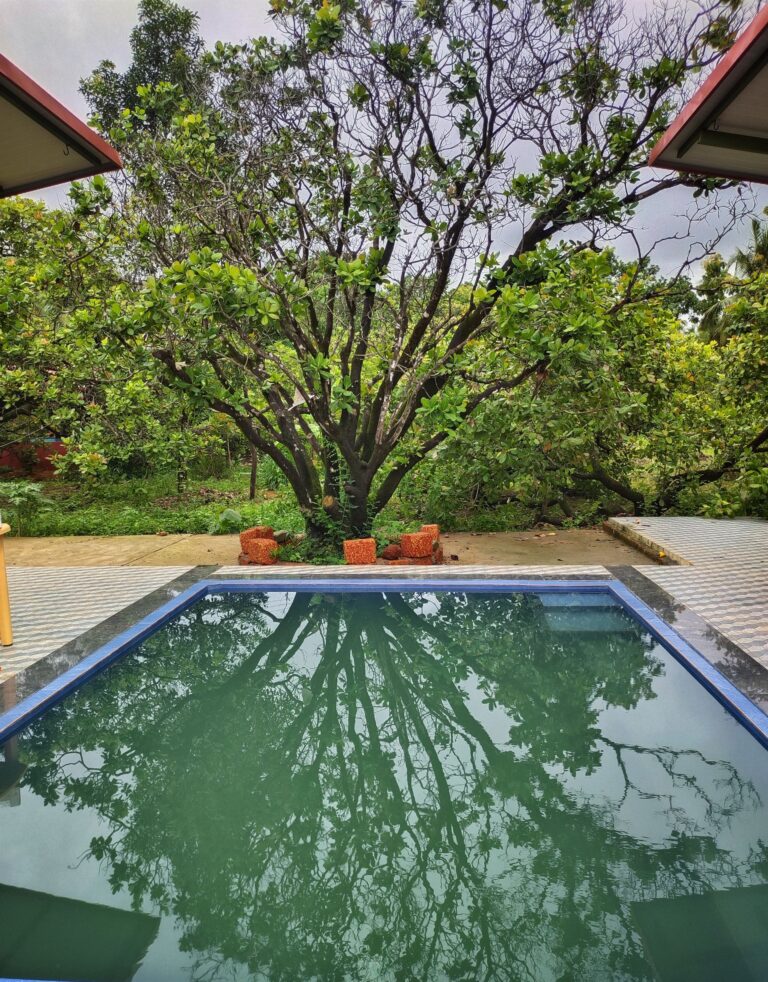 Kalavady Farm, a Homestay Near Udupi, is nestled within a sprawling 50-acre family-run farmlands adorned with cashew, mango, and coconut trees. At the heart of this natural haven lies a distinctive and functional vacation home, harmoniously integrated into a lush 4-acre cashew plantation. Located in the foothills of the Western Ghats and managed with unwavering dedication by local farming families in Byndoor, our farm offers a tranquil retreat for those seeking solace and seclusion.
During your stay, immerse yourself in the symphony of nature's sounds and be captivated by the star-studded night sky. Experience the serene and private ambiance of our secluded farm, where tranquility and privacy are paramount. If you visit during the cashew farming season, you'll have the unique opportunity to witness the farm adorned with cashew fruits and even partake in the cashew nut harvesting process.
As the monsoon season arrives, a different facet of the farm comes to life, transforming it into a lush green paradise. If you're an early riser, venture out for a morning walk amidst the farm's refreshing breeze. Keep an eye out for the diverse array of birds and the graceful presence of peacocks leisurely strolling through the farm.
During the day, you can choose to relax beneath the shade of the cashew trees, allowing you to lose yourself in a good book or find inspiration for your writing. If you have a deep affection for nature and find joy in life's simple pleasures, this farm is sure to meet and exceed your expectations. For more information, don't hesitate to call us.
The Stay
Our guests can stay in one of three units consisting of a traditional farmhouse unit, A cozy cottage with an attached bathroom & a tiny kitchen area. A tiny home for those who choose to remain with us for an extended period of time. They can enjoy themselves while staying on a budget. In addition to this, we have two charming cottages with walls constructed of firm compressed red soil to keep the environment dry and comfortable with a private mini pool built right in the middle of it. Summers can be hot, and everyone wishes to take a refreshing plunge in cool water. We understand the importance of comfort and hygiene, all three cottages come equipped with a very comfortable mattress and well-maintained attached bathrooms. In addition to 3 attached bathrooms, you can also access additional two outdoor bathrooms with the same level of quality which is dedicated to people staying in the dorm cottage.
The modern cottage-type holiday home is situated in the heart of a cashew plantation, with a little waterbody in the distance.
We have introduced a dormitory specifically designed for those seeking budget-friendly accommodations. Our simple dormitory is located a bit away from the main building, nestled within the farm. It features 10 spacious bunk beds and central air conditioning to keep you comfortable. You'll have access to two shared, fully functional outdoor bathrooms for your hygiene needs.
Please bear in mind that this facility is designed with budget-conscious guests in mind, so please do not anticipate a wide range of amenities. Reserving a dormitory room will grant you restricted access to the property, and access to the pool will not be available unless there are no guests in the main building. Nevertheless, we have made every effort to ensure your comfort throughout your stay.
This dormitory is best suited for the younger generation as climbing up to the bunk beds is required, and the bathrooms are located outdoors. For families or older individuals, we recommend checking out our poolside cottages and traditional cottages. Additionally, our in-house kitchen will provide meals for your convenience during your stay.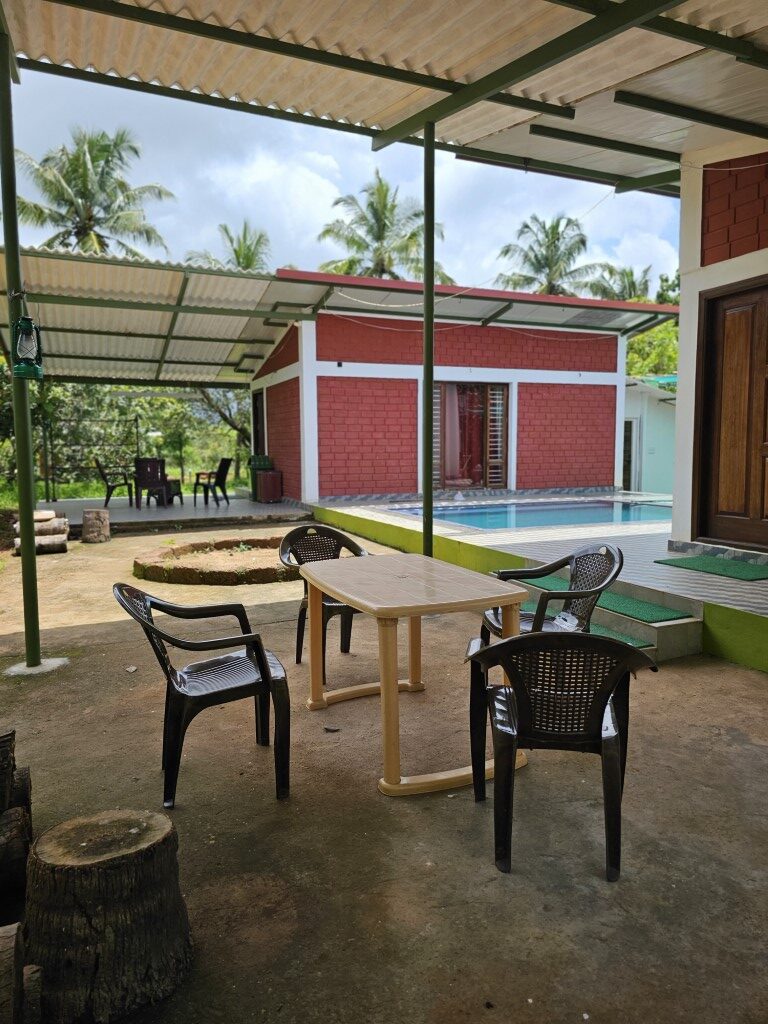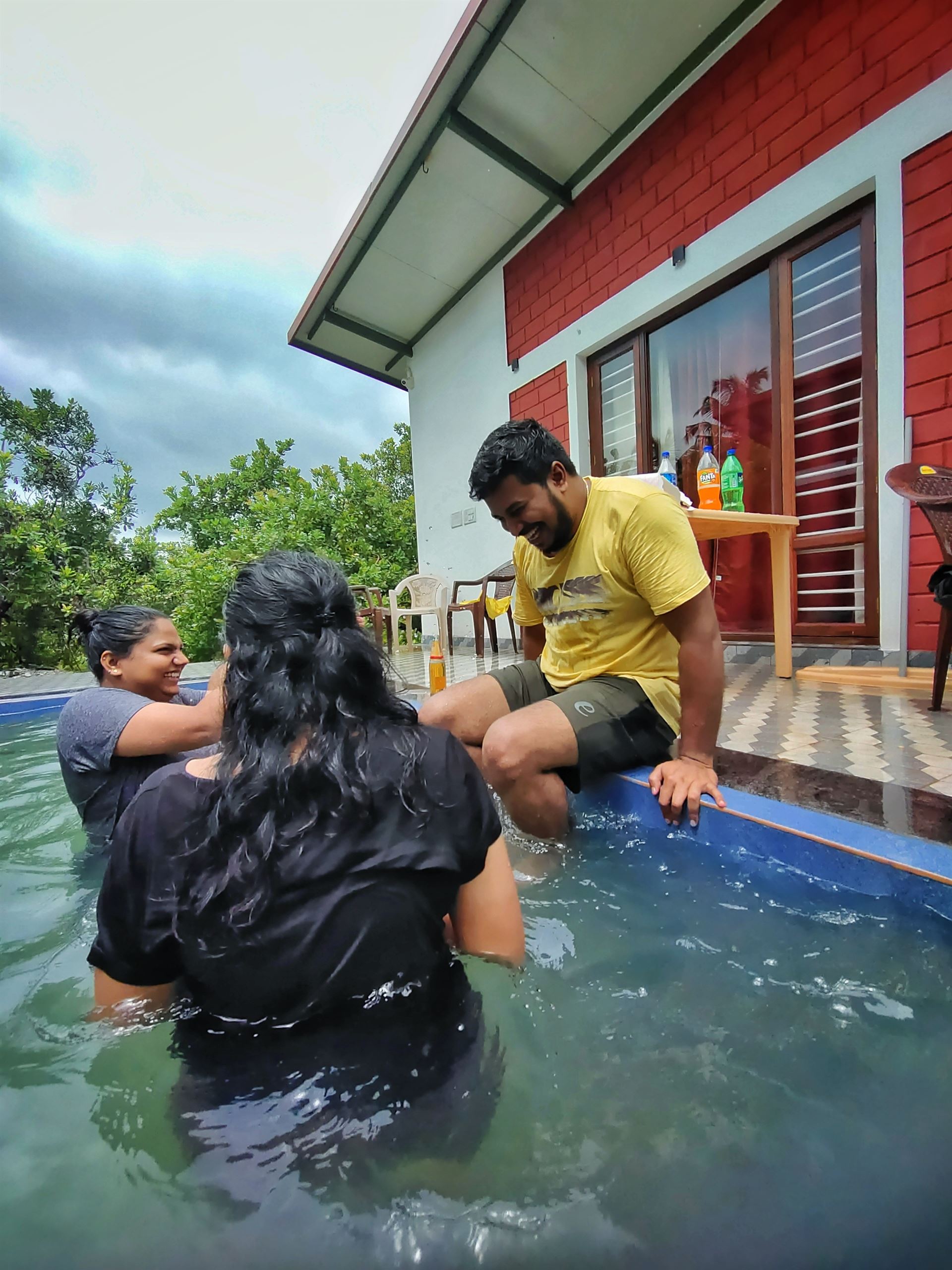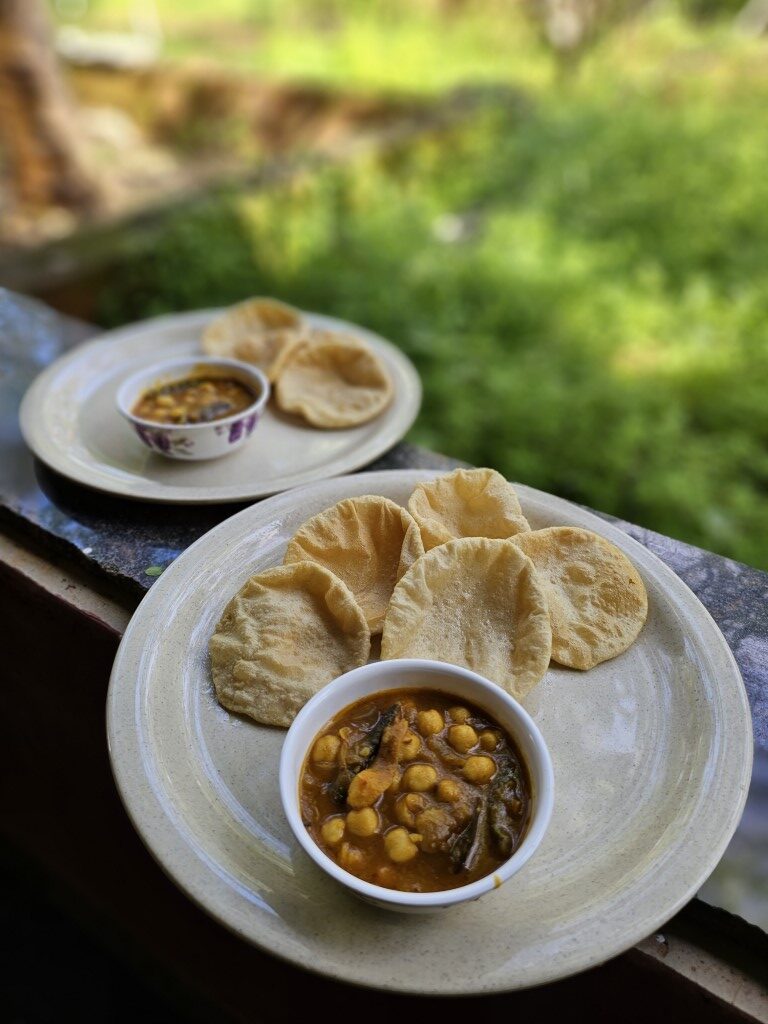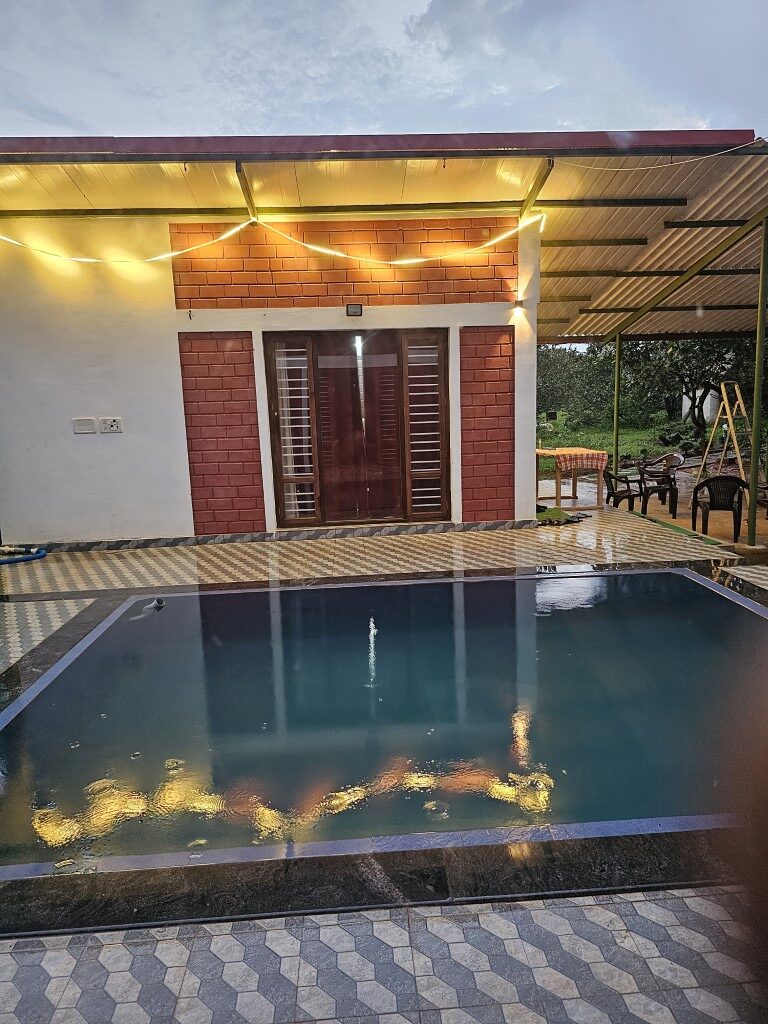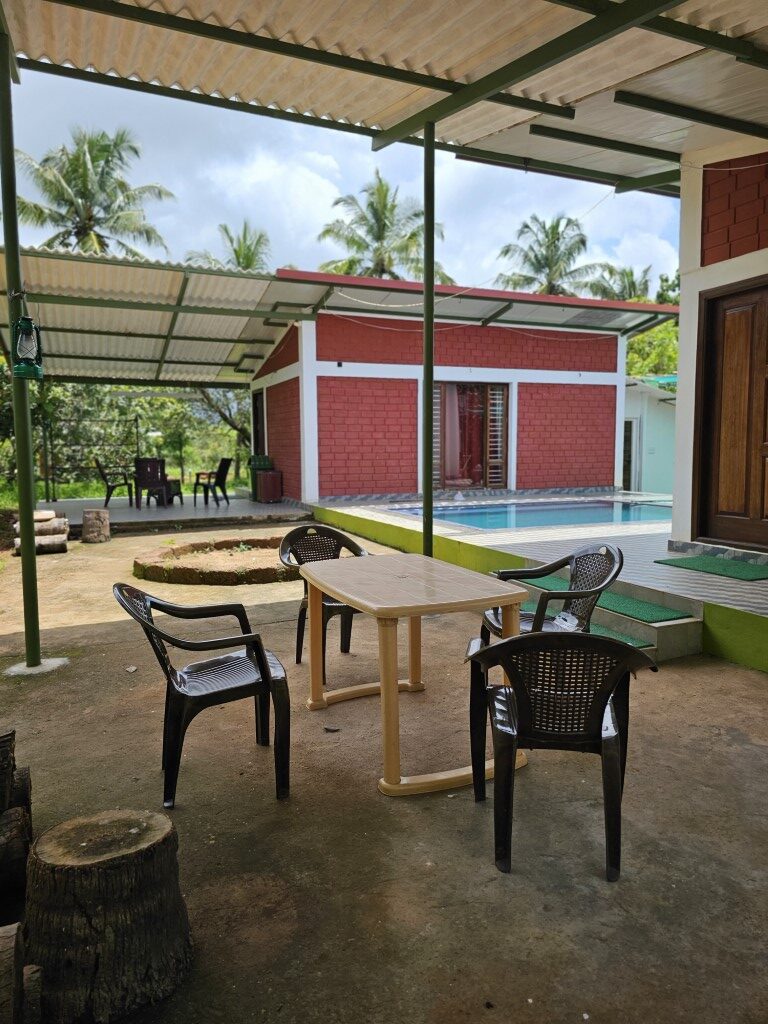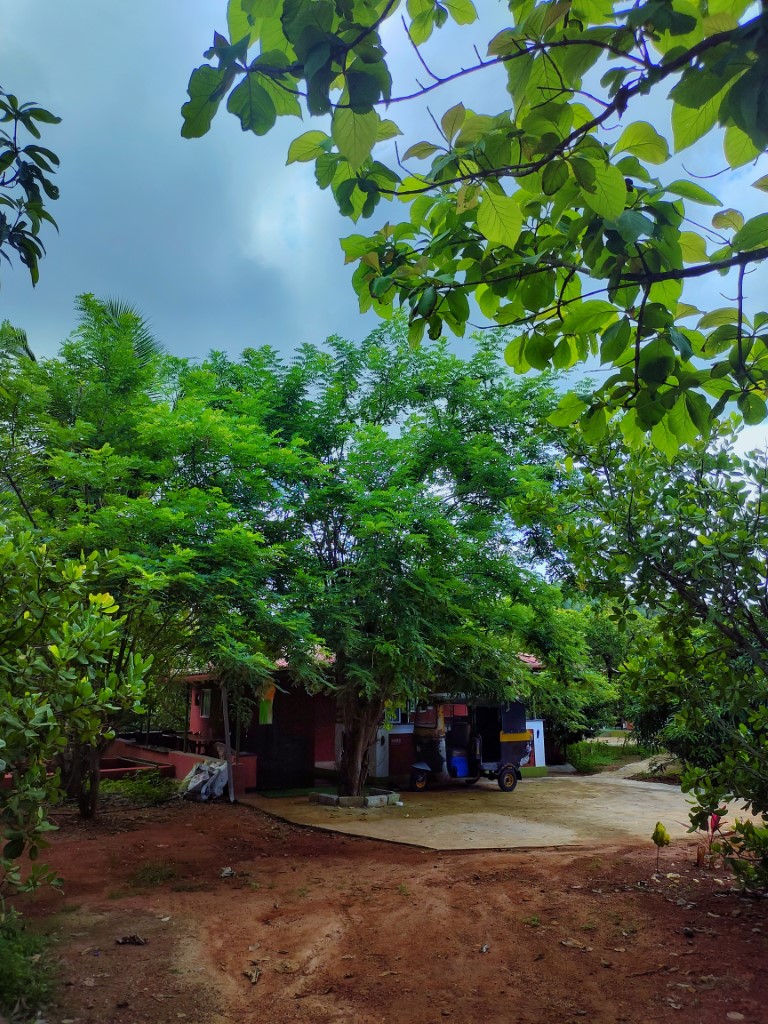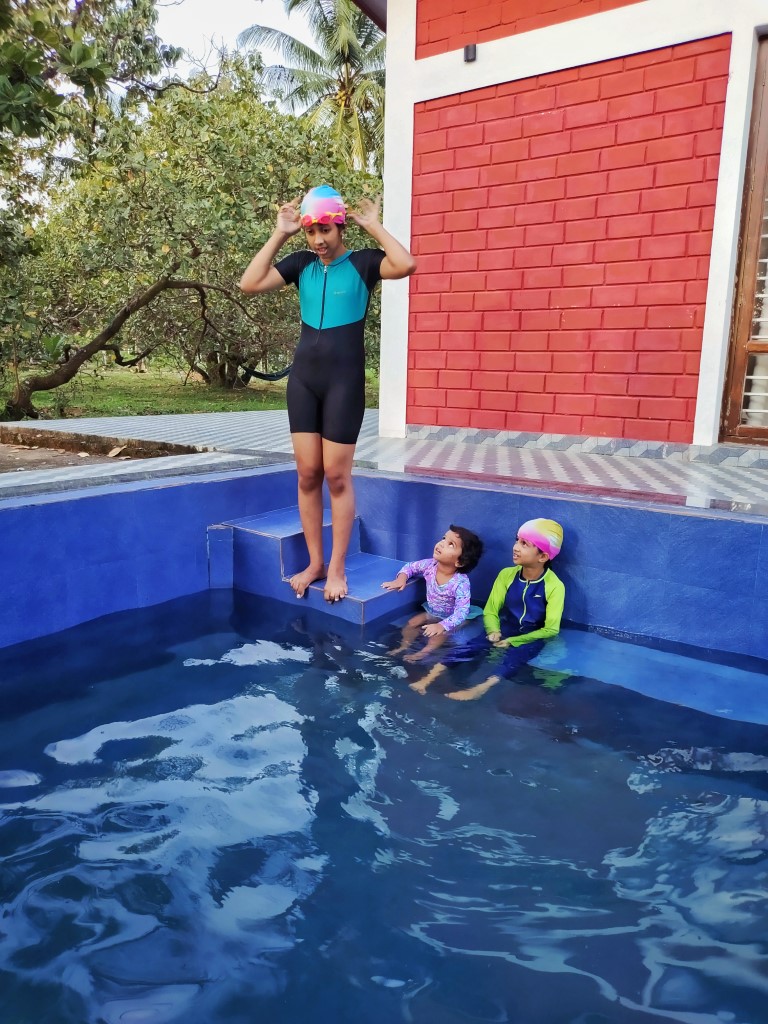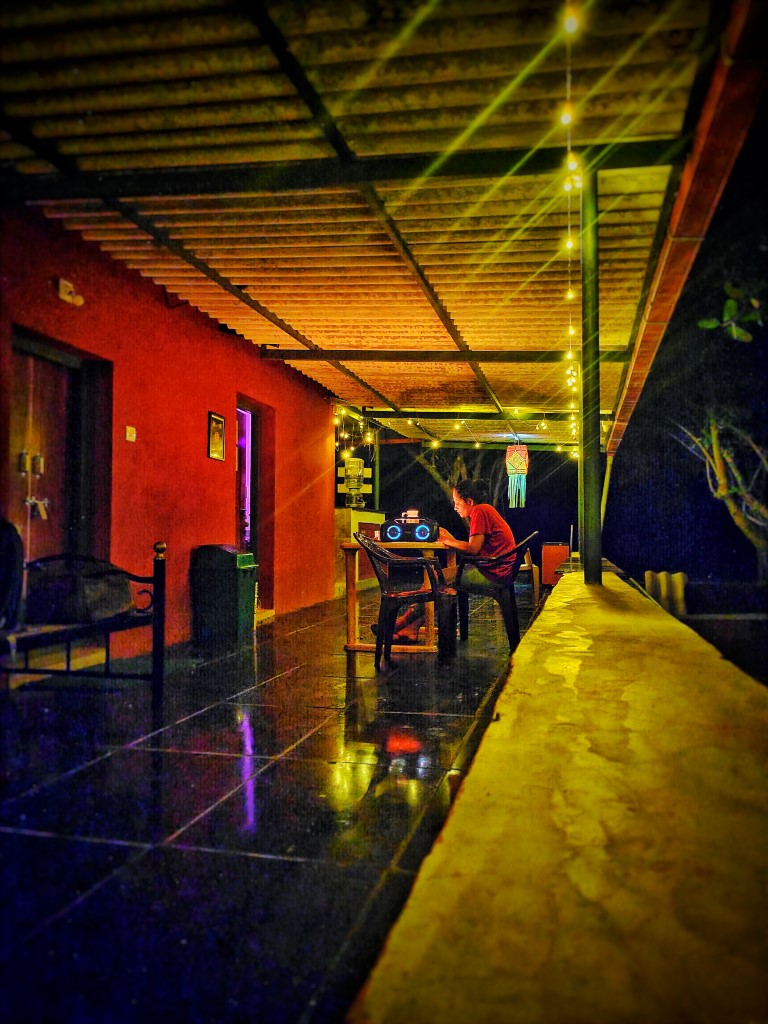 What to expect. 
We are absolutely thrilled by your interest in getting to know more about our cherished farm stay. Originally, this farmhouse was conceived as an extension of our family's primary residence, a place we'd retreat to during our occasional visits. To keep the farmhouse vibrant and purposeful, we've made the decision to open our doors to travelers like you who share our enthusiasm for exploring the spiritually enriched Udupi district.
Our farm cottages have been carefully designed with a clear vision in mind: we've aimed to maximize the use of available space while respecting and preserving our cherished trees and the natural environment. When it comes to your comfort, you can be assured that all our cottages are thoughtfully equipped with amenities such as air conditioning, hot water geysers, and cozy beds. Your stay with us is guaranteed to be comfortable. . Our cottages are modest yet distinctive, so please don't expect extravagance beyond what's already available on the property. If you find these accommodations suitable, this place is certain to leave a lasting impression on your memory. If you find these accommodations suitable, this place is bound to leave lasting memories in your heart.
Throughout your stay, you'll be enveloped in the tranquility of our fully operational 50-acre farm. Expect to be surrounded by a myriad of trees, a diverse array of bird species, and the soothing sounds of nature's creatures in the background. It's important to acknowledge that our farm's natural surroundings may not be entirely free of insects, as they play an integral role in our ecosystem. If you happen to have severe allergies, we kindly recommend reaching out to us in advance before making a reservation, allowing us to address any specific concerns you may have. Rest assured, your comfort and enjoyment remain our utmost priorities. Besides the indoor accommodations, we offer ample outdoor spaces where you can relax and unwind, making your experience all the more personal and memorable.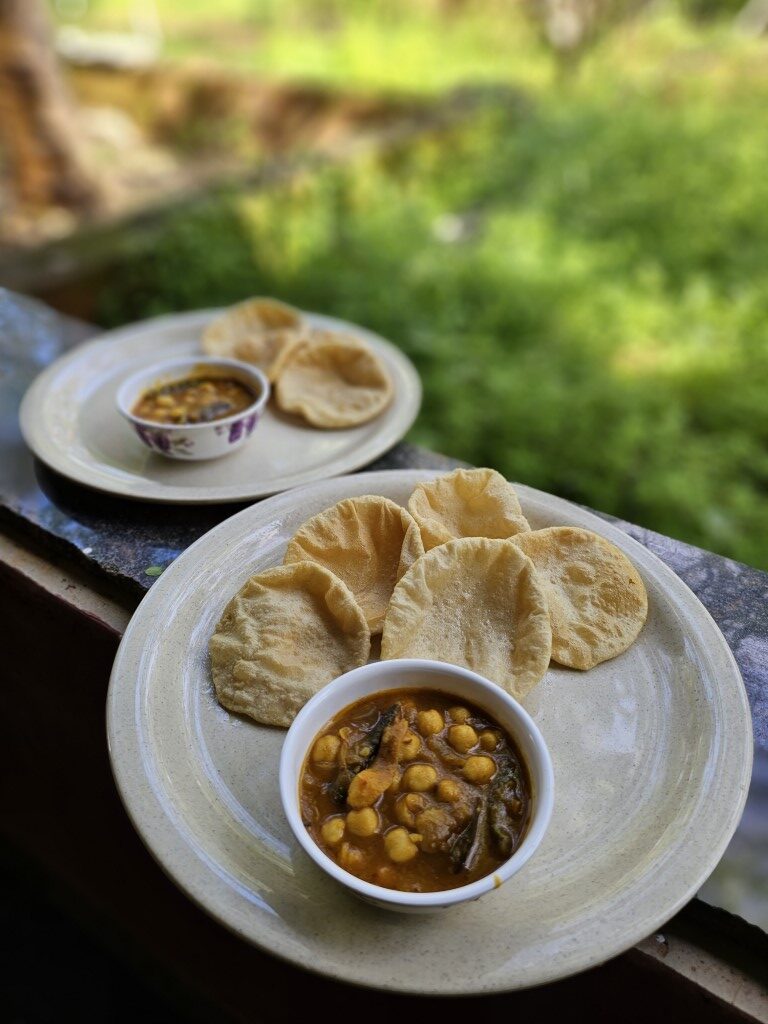 Food
To enhance your farm stay with a more welcoming atmosphere, we are thrilled to introduce our on-site kitchen. We are fortunate to have the assistance of a couple, Rahul and Kajal, who play a pivotal role in managing our farmhouse and ensuring your comfort during your stay. Both Rahul and Kajal hail from Lucknow and possess remarkable skills in crafting authentic North Indian cuisine. Kajal, in particular, brings a wealth of experience as a talented home cook. To ensure Kajal's well-being and maintain a manageable schedule, we offer a concise menu featuring a selection of genuinely home-cooked dishes. Rest assured, both Kajal and Rahul pour their heart and soul into preparing every meal.
Sorroundings
For those who prefer a tranquil retreat, this idyllic destination offers the perfect setting for reading and writing enthusiasts. The charming cottages provide a cozy haven, allowing you to unwind while gazing out at the picturesque farm through expansive wall-sized windows. Surrounding you are lush outdoor spaces immersed in pure nature, serving as inspiring sanctuaries for your literary endeavors. Picture yourself randomly selecting a spot beneath one of the serene cashew trees, relishing the invigorating breeze, and contemplating life's wonders.
For those with a thirst for adventure, there's a multitude of activities awaiting you in and around Byndoor. Embark on invigorating nature walks through the farm's verdant surroundings, or take a leisurely visit to the enchanting Vattinanae Beach. As you stroll along the shoreline, you'll be treated to the mesmerizing sight of the Sumanavati River merging gracefully with the majestic Arabian Sea.
For a spiritual experience, you can visit much revered Kalavady Shree Eshwara Marikamba Temple, Seneshwara temple, and Someshwara temple of lord shive which is located on shores of arabian sea and the revered Kollur Mookambikae Temple is a mere 26 kilometers away, and you can even venture to Kodachadri during your stay.
About Us
We extend a hearty welcome to all visitors to Kalavady farm stay. The Kalavady farmhouse is one of the best place to stay in Udupi. The Kalavady family has a lengthy history, with many of its members having lived in the same place for more than a century. In those days, Byndoor was a little, isolated village, and Kalavady grama was a tiny hamlet with only a few houses. Consequently, the family name and area got associated with each other. You can visit our 100-year-old historic house just a few kilometers across the property, by special request.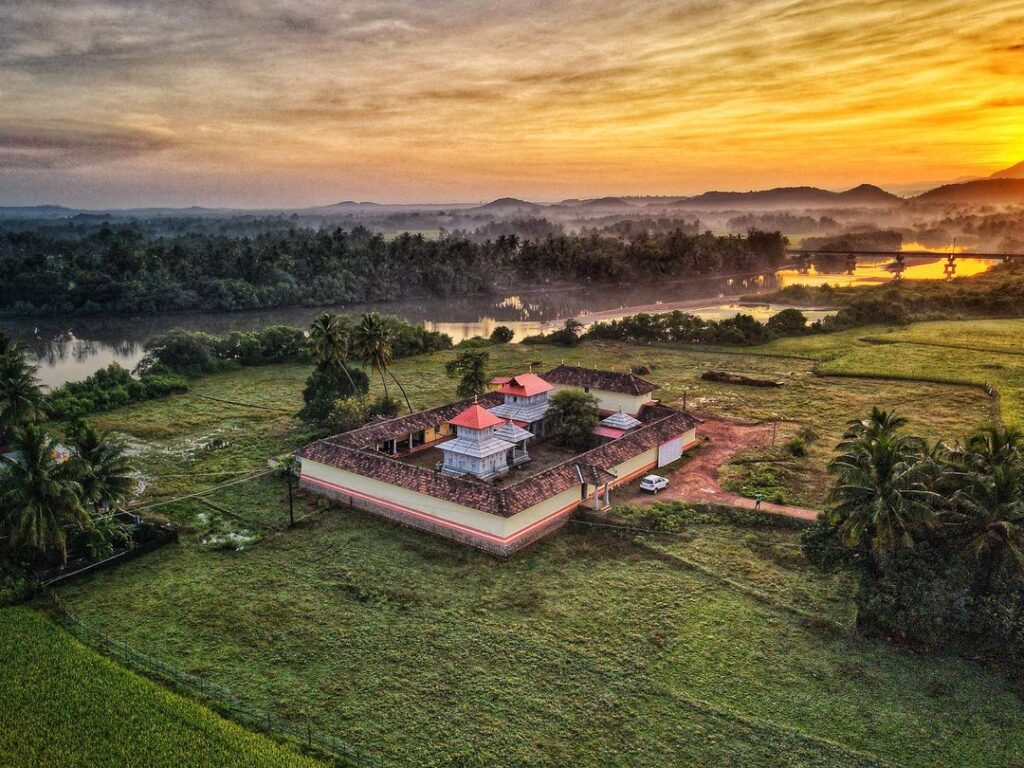 Kalavady Sri Eshwara Marikamba Temple.
Believed to be worshipped by  people living in and around Byndoor for more then 700 years. Located on the bank of the beautiful Sumanavati river,over looking at the mesmerizing view of the mighty western ghats. From generations, the blessings of caretaking of this temple has been bestowed upon Kalavady family. There are many legends about the spiritual powers of this temple. If you are seeking for spiritual blessing, this temple is a must-visit location during your stay at Kalavady Farmhouse. For directions , Click here

Homestay near Kollur Mookambika Temple
Kalavady Homestay, located in the Udupi district, is a highly recommended accommodation option for visitors seeking to have darshanam (blessings) at Kollur Shree Kshntram. Situated just 3 kilometers away from the national highway and a convenient 20-minute drive to Kollur, it serves as an ideal retreat for families and small groups. After receiving the blessings from the goddess, Kalavady Homestay offers a peaceful and pleasant stay, allowing guests to unwind and enjoy a tranquil atmosphere.
The Kollur Mookambika temple is one among the seven abodes of Salvation, in the creation of Parashurama. The Shree Kshethram is set up by Adi Shankaracharya. This is an abode where the Goddess Shakthi is worshiped. Devi Mookambike is worshiped here as the Shakthi Devatha. The Monster or troll Kaumhaasura, known as Mooka was put to death in this Kshethra. Mookambike is an Adi Shakthi as the Linga has integrated on it's left side " MahaKali", Maha lakshmi" and Maha Saraswathi". The Adi Shakthi in this form can be seen only here. In the form of Udhbhavalinga, Mookambike has also integrated Brahma, Vishnu and Shiva on the right side. A gold Chain is dividing this Jyothirlinga into left and right portion. The left side of the Linga represents the Shakthi and right represents Shiva. Since Devi had appeared in his devine sight during his meditation, Adi Shankara had set up the statue of Devi on "SriChakra Yantra". Shri Shankaracharya's Peetha is on the western side of the Sactum Sanctorum of the Temple. Even today the worshiping ritual is being continued as per the Vijayagama system formulated by Adi Shankaracharya 
Homestay near Murudeshwara Temple.
Kalavady Homestay in Udupi offers a convenient location as it is only a half-hour drive away from Murudeshwara Temple. Choosing to stay at Kalavady Homestay while visiting Murudeshwara allows you to explore both Udupi district and Uttarkarnataka district. Situated at the border of these districts, Kalavady Farms provides a unique advantage of easily accessing various attractions. On one side, you can visit Malpe Beach and Kundapura. On the other side, you can explore Murudeshwara, Honnavar, and even go as far as Kumta, all within a 90-minute drive.
Murudeshwara is a temple town in Bhatkala Taluk, Located on the main Mangalore- Karwar Highway, And it is sandwiched between the picturesque Western Ghats and the Arabian Sea. Its main attraction is a Shiva Temple with Chalukya and Kadamba sculptures built in the Dravidian style of architecture with an awesome Shiva statue and its pristine beach. The temple is located on a hillock which offers a magnificent view of the sea. The temple complex is famous for its tall Shiva statue which is around 37 m high and is the tallest Shiva statue in India. The temple gopura at 237 ft is the 2nd tallest in India. From across the beach, one can see the mammoth statue sparkling against the backdrop of a blue sky. There is also a huge statue of the Gitopadesha depicted in the lush garden here complete with a chariot.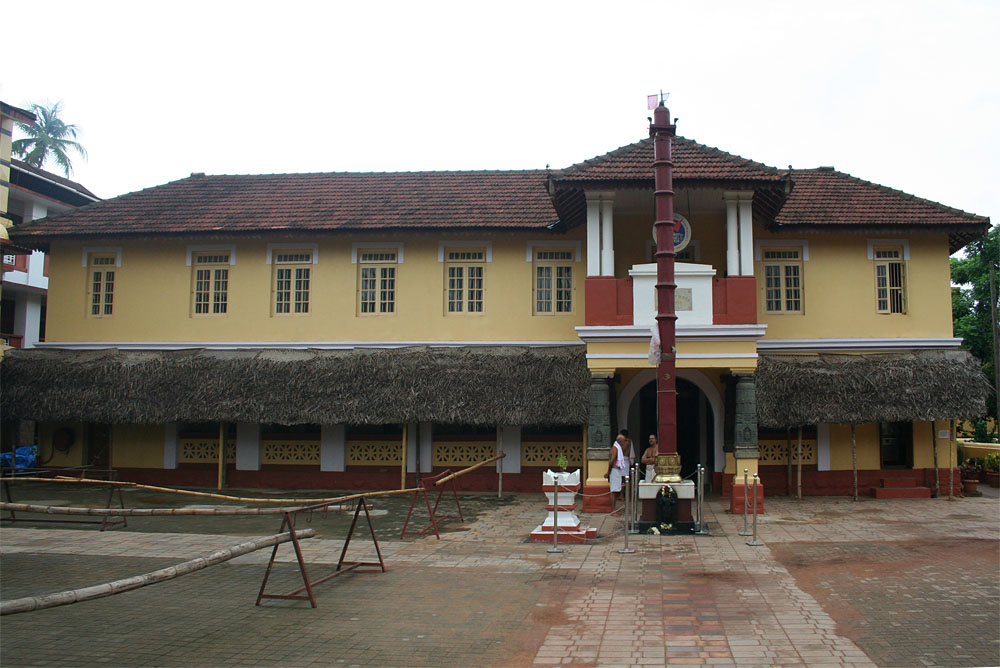 Homestay near Shri Chitrapur Saraswat Math
Shri Chitrapur Math, located close to 26 kms or less then half hour drive drom Kalavady Farms, is a prominent religious institution in the Chitrapur Saraswat Brahmin community, a sect of the Saraswat Brahmins. The Chitrapur Saraswat Brahmins are a subsect of the larger Saraswat Brahmin community, primarily residing in the coastal region of Karnataka, India.
Shri Chitrapur Math, also known as the Chitrapur Math, serves as the central religious and administrative authority for the Chitrapur Saraswat Brahmin community. It is one of the eight mathas (monasteries) that were established by the sage Shri Madhvacharya in the 13th century.
The Math is known for its spiritual guidance, cultural preservation, and social welfare activities. It plays a significant role in preserving and promoting the religious and cultural heritage of the Chitrapur Saraswat Brahmin communityf
Frequently Asked Questions