Our Place
Homestay near Kollur Mookambika temple &
Homestay Near Murudeshwar
Homestay near Kollur & Murudeshwar in Udupi District.
Cottage 1 resembles a small traditional independent village cottage and was constructed with Redstone. The main gathering place for all visitors to the farm is a tiny open kitchen that is connected to cottage 1. The porch of this traditional-looking cottage offers a place to unwind and take a break from the heat of the day. You may also use the porch to work on your computer or read while connected to our high-speed broadband network. The cottage has three single beds that can be connected for larger families or divided for three people. There is air conditioning, a geyser, a little cooking area, a private bathroom, and a mini fridge, and the beds are incredibly comfy.Cottage1 is connected to an open bar-styled mini outdoor kitchen overlooking the farm with a gas connection, wash basin, and cutleries. This can be used to prepare light snacks, tea coffee or just use as a counter to serve beverages. On the other side to the outdoor kitchen, you can access our barbeque setup for people who like to indulge in making barbeques and have a great time with friends and family.

Cottage 2 and cottage 3 are two charming cottages with walls constructed of firm compressed red soil to keep the environment dry and comfortable. Cottage 2 is equipped with a king-size bed overlooking at the swimming pool with, an attached bathroom. Cottage 2 is equipped with one king-size bed, one single bed with an attached bathroom. All cottages are air-conditioned. The cottages come with an attached plunge swimming pool. Summers can be hot, and everyone wishes to take a refreshing plunge in cool water. While some just cool off in the pool, the younger generations love to party here all night long and kids have the best time. Kalavady Farmstay is a vacation rental property and the facility is built around the idea of giving a true farm living experience. To encourage an outdoor living experience, TVs are not included in the cottages and guests will be assisting themselves during their stay. Guest will have access to all facilities for a comfortable stay and our caretaker will assist you to quickly settle down and assist you from morning 8.30 am to 10:00 pm. Caretaker services will be limited to helping you out and won't be cooking or giving room services. Nest away can accommodate up to 8 people on beds and with extra mattresses on the ground, the property can accommodate up to 12 people based on guests' comfort level.

We understand that every guest has unique travel needs and schedules, which is why we offer flexible check-in and check-out options. However, to ensure that we can provide the highest level of cleanliness and comfort for each guest, our standard check-in time is 1 pm and check-out time is 11 am. In the event that we have guests the previous day or guests checking in the next day, we kindly ask for your understanding and cooperation in adhering to these times. This allows us ample time to thoroughly clean and prepare the space for your arrival, ensuring that your stay with us is nothing short of exceptional.
Goto Homepage
Read more about Udupi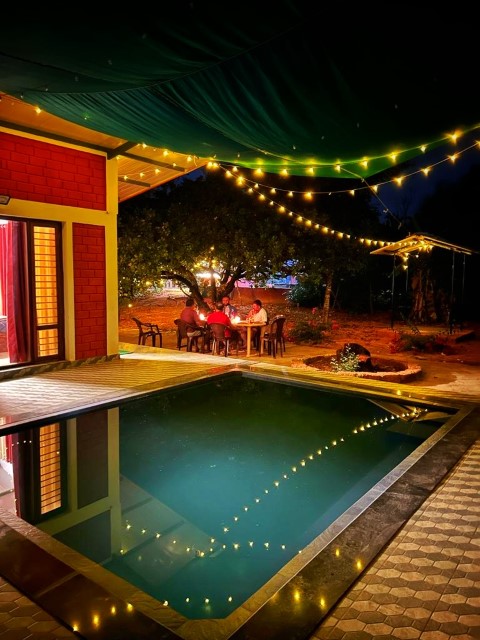 The property is equipped with various amenities such as a refrigerator, washing machine, and a small open kitchen with a 2 burner gas stove, basic utensils, a cooker, and frying pans, all of which overlook the surrounding farm. Additionally, a RO water filter with copper and zync ionization having a 99.999% purification rating, a barbeque setup (at an extra charge for coal and marination), kettles, a swimming pool, outdoor seating, and 4 acres of cashew plantation surrounding the cottages are also available for guests to enjoy.
Furthermore, the rooms are furnished with air conditioning units and geysers for hot water. In-room amenities such as 2 soap bars, 2 sachets of shampoo, 2 towels, a toothpaste tube, and a hand sanitizer in each bathroom are provided for the convenience of guests.
You can expect a distinct atmosphere on the property every time you visit depending on the season. The area around the cottages becomes completely green during the monsoon, and there is life wherever you look. You might even see fireflies lighting up the entire farm if you're lucky. Every monsoon, It will be a whole different experience if you enjoy the rain and lush surroundings.If you like to just stay back and enjoy the sounds of rain, and greenery, monsoon will surprise you. Post monsoon You will encounter temperature decreases at night during the winter during November and December, making for a chilly and cool experience. And as spring passes and summer takes over, the environment significantly shifts, with highs of 34 degrees with humidity and we have it covered to beat the heat. The best time to enjoy the pool is when the summer heat is at its peak and cool off. Summertime is when the farm starts producing cashew nuts and you can eat plenty of cashew fruits during your stay. While the day might seem hotter, nights will be moderately cooler. perfect time to gaze at stars or simply lie down under the open sky. For beach lovers and for best sunsets, the ideal period is between October – February. For Star gazing best time is between October to January. The best time to witness the farm at its fullest greenery is monsoon. The best time to witness fireflies is in June & July ( depending on the mating cycle of fireflies). If you love quite space and nature, this is a goto place for you. Call Now at 9731258717 for more details
Nature is not a place to visit. It is home. Had a wonderful experience especially the night view of this farm house. Love to visit this place again and again.
Best nature experience and amazing hospitality! a different farm-stay feelings, must visit for some peace.
We stayed here for two-nights during our trip to Netrani. The hosts were incredibly delightful and treated us with great hospitality. The property is situated only about 10 mins off the highway, yet tucked away in nature with gorgeous greenery all around. The rooms were very well maintained and the farm was so peaceful. The hosts graciously helped us out throughout the stay with several things including plan a birthday surprise for one of our friends. I would 100% visit the place again and would recommend to my friends.
The relaxed ambiance of the Farm Stay was mind soothing! The rooms were nice and clean as well. The perfect host you would want to have...Surely a Pleasant experience