Shri Chitrapur Math is located at a distance of 28kms from Kalavady farmstay. Anyone who visits Shri Chitrapur Math gets the impression that they've arrived at home. In the presence of Lord Bhavanishankar and the Guru Samadhis, as well as the omnipotent presence of the current Mathadhipathi, one forms an instant bond that lasts long after one has left the Math.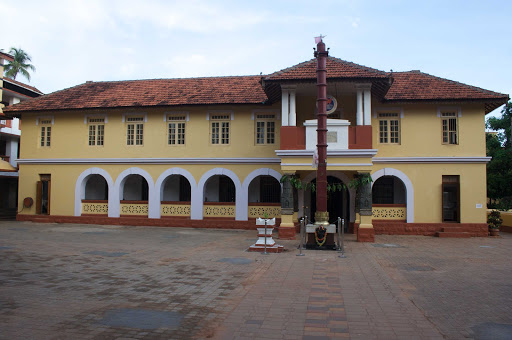 TShri Chitrapur Math, which was built in 1757 to consecrate the Samdhi Sthala of the second Mathdhipati- Parama Pjya Shakarshram Swmj I, now houses the consecrated idols and shrines of the community's rdhya Devat – Lord Bhavnshakar, Dev Bhuvaneshwar, Lord Gaapat, and the world renowned propagator of Advaita (non-dualism) – Shrī Ādi Shaṅkarāchārya. . The Math also contains the sacred Samdhi-s of six famous Mathdhipati-s, as well as the Pduk Sannidhi of the tenth Mathdhipati – Parama Pjya Parijnnshram Swmj III.
Shri Chitrapur Math reverberates continuously to the chants of the Vaidika-s performing various kinds of puj-s and homa-s to propitiate the Divine on behalf of individual sdhaka-s, entire families, or the samja as a whole, from the soulful Suprabhtam to awaken the deities to the melodious Magalam to end another eventful day. All of the important Hindu festivals and Utsavas are celebrated here with traditional pomp and ceremony, aside from the Vardhant and Samrdhan (Puyatithi) of each of the rare Mathdhipati-s of this hallowed Guruparampar.
Shri Bhavanishankar, a form of Shiva, is the main god worshipped at this Math. The temple's other six sanctorums are the Samadhis of the community's former GuruSwamis. At the shrines of Bhavanishankar and the other Swamijis, daily puja is performed.
Parijnanashram Swami I is thought to be a direct manifestation of Shiva himself, who arrived from the north (probably Varanasi). Swami Shankarashram was a Harite descendant. Shri Parijnanashram Swami consecrated him in 1720. When the question of where his Samadhi should be built arose, the Nagarkatti family provided their home in Chitrapur, Shirali, for the construction of the Samadhi and the Temple, which still remains today. You can read more about the temple programs from the official website. Click here.
Read about other attractions near the farm, Click here