Thinking of visiitng Murudeshwara temple from Bangalore and wondering how to reach from Bangalore to Murudeshwar temple ?
Murudeshwara, situated in Karnataka, is a renowned tourist spot where devotees and pilgrims from across the nation undertake journeys on foot to show their reverence to Lord Shiva. This village in Karnataka houses an ancient temple that holds immense religious significance, drawing visitors from around the globe who come to offer their prayers and pay homage to Lord Shiva.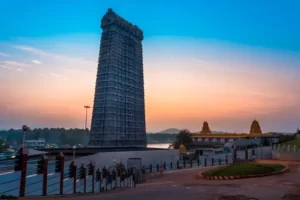 Bangalore to Murudeshwar Temple can be a very intersting journey. When embarking on a journey from Bangalore to the tranquil town of Murudeshwara, you'll find yourself spoiled for choice when it comes to transportation. If time is of the essence, the quickest route involves catching a flight to Mangaluru Airport, followed by a cab ride to Murudeshwara, completing the trip in just about 5 hours and 16 minutes. This option is perfect for those eager to reach their destination swiftly.
On the other hand, the recommended and perhaps the more enchanting route is taking a bus, which typically spans between 8 to 10 hours. While it may take a bit longer, this mode of travel offers you the opportunity to soak in the scenic beauty of the journey. As you wind your way to Murudeshwara, you'll pass through picturesque villages, meandering through lush fields, and immersing yourself in the breathtaking wonders of nature. This method of travel lets you appreciate the sights and sounds of the region, creating unforgettable memories.
For those who crave a truly unique and immersive experience, embarking on this journey in your private vehicle is an excellent choice. The road trip unveils a different dimension of travel, one where you have the freedom to stop and explore at your leisure. Along the way, you can savor the charm of the countryside, the authenticity of the villages, the serenity of the fields, and the unspoiled beauty of the natural surroundings. Your private road trip becomes an adventure in itself, allowing you to create your own narrative and discover hidden gems that may not be on the typical tourist's itinerary. So, whether you're seeking speed, scenic beauty, or a personalized adventure, your journey from Bangalore to Murudeshwara has an option to suit your every preference.
If you are looking for the perfect place to stay near Murudeshwara temple, Kalavady Farmstay can be your excellent choice. It also gives you access to Kollur Mookambika Temple and Kodachadri Hills. Read more about our accomodation, visit www.kalavadyfarmstay.com
To read more about other tourist attractions near by Click here