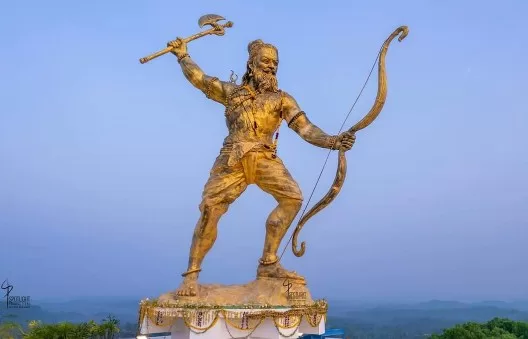 Parashurama Theme Park is an exciting and unique attraction located in Karkala, Karnataka, India. It is a park that is dedicated to the legendary warrior sage, Parashurama, and showcases his life and teachings through a series of exhibits and interactive experiences. This blog will explore the various aspects of the park and why it is a must-visit destination for those interested in Indian mythology and history.
The park is spread over 100 acres of land and is situated in a scenic and peaceful location. It is designed in a way that immerses visitors in the world of Parashurama, the sixth avatar of Lord Vishnu, who is revered in Hindu mythology. The park offers a variety of attractions and experiences that are perfect for families, students, and tourists alike.
One of the main attractions of the park is the Parashurama Statue, which is the largest statue of the warrior sage in India. It stands at a height of 21 meters and is made of bronze. The statue is an impressive sight and a fitting tribute to one of the most legendary figures in Indian mythology.
The park also has a museum that showcases the life and teachings of Parashurama. The exhibits are interactive and informative, and visitors can learn about his battles, teachings, and the weapons he used in his fights. The museum also has a section dedicated to the history and culture of the region, providing visitors with a comprehensive understanding of the area's past. Another interesting location to explore Nakre Rock Hill
Another highlight of the park is the Vedic Village, which is a recreation of a typical Indian village from the Vedic era. Visitors can see how people lived in ancient India, learn about traditional agriculture, and participate in hands-on activities like pottery making and weaving.
For those looking for a bit of adventure, the park has a range of outdoor activities like zip-lining, rock climbing, and rappelling. There are also nature trails and birdwatching spots, providing visitors with a chance to explore the beautiful natural surroundings.
The park also has a range of facilities for visitors, including restaurants, souvenir shops, and a prayer hall. There is ample parking space and the park is easily accessible from nearby towns and cities. Read more about Parashurama theme park
In conclusion, Parashurama Theme Park is a unique and exciting attraction that offers visitors a chance to learn about one of the most revered figures in Indian mythology. With its impressive statue, interactive museum, and range of outdoor activities, the park is a must-visit destination for anyone interested in Indian history and culture. Whether you are traveling with family or friends, a trip to this park is sure to be a memorable experience.