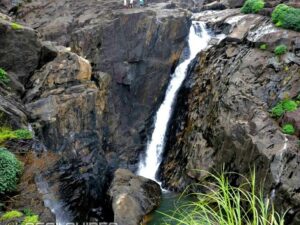 The magnificent Kunchikal Falls are situated at Nidagodu hamlet close to Masthikatte in Shimoga district of Karnataka, 52 kilometres from Agumbe and 77 km from Udupi. It is one of the stunning waterfalls in Agumbe and is situated on the boundary of Shimoga and Udupi. https://goo.gl/maps/rgbFeT9xoev1E4wU9
Kunchikal Falls, created by the Varahi River, descend from a height of roughly 455 metres. The Kunchikal waterfall is the highest waterfall in India and ranks 116th in the world. These rocky outcrops next to the Hulikal Ghati Temple are where the River Varahi cascades down from a higher level. One hydropower project in Karnataka gets its power primarily from it. Visitors are mesmerised by its enduring natural beauty and energising atmosphere, which draw a sizable number of travellers each year. The waterfalls are a well-liked destination for hiking because they are surrounded by lustrous, lush woodlands.
The water flow to these falls has been significantly reduced since the construction of Mani Dam near Masthikatte and an underground power generation station near Hulikal, and they are only visible during the rainy season (July-Sept). Since the waterfall is inside a restricted area, a Gate permit is necessary to visit, and the pass is provided in the village of Hosangadi (about 15 km away). To keep the peace in the region, the landscape around the waterfall has been very well protected.
The rainy season, which runs from July to September, is the ideal time to see Kunchikal Falls. Unbelievably large amounts of water are rushing out of the waterfall, which is a sight to behold.
Timings: 7 AM – 5 PM
Entry: Free