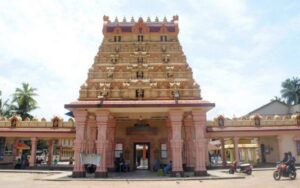 Mangalore has a stunning Sri Bappanadu Durga Parameshwari temple, which is located 22.5 kilometres from the Karnataka seaside town. The Bappanadu village in Mulki town is where this temple is located. Mangalore is not just a beach town; it is also a city that is home to numerous old temples. Along the Shambhavi River's banks is where the Bappanadu Durga Parameshwari temple is located. It is claimed that the goddess manifested herself as a Linga (symbolic statue) near the confluence of the rivers Nandini and Shambhavi on Mulki's boundary.
Every temple in Mangalore has a fascinating history, and the Bappanadu Durga Parameshwari temple in Bappanadu also has a fascinating narrative explaining how it came to be. The temple is thought to have been constructed by a Muslim trader by the name of Bappa. The merchant once saw a river that was smeared with blood while crossing the Shambhavi, and his boat came to a stop in the middle. The terrified merchant looks about and, to his amazement, hears a divine voice instructing him to beg Mulki Swantha (the Jain ruler) for assistance and construct a temple for her. Bappanadu is the name of the settlement as a result, and Bappanadu Durga Parameshwari is the name of the temple. Another interesting location to explore Daria Bahadurgarh Fort
Another mythology claims that Darigasura, the demon king who governed Shonitapura, turned to Lord Brahma for assistance because of his hatred for Lord Vishnu. He carried out a penance and received a blessing as he had hoped. After conquering Lord Vishnu with the help of the boon, he took the ammo away, gave it to his wife, and instructed her to keep it secure at the place of worship. Read more about Bappanadu Durga Parameshwari Temple
Goddess Durga, in the guise of Sapta-Durga, manifested in response to Lord Vishnu's anguish and vowed to kill Darigasura of Shonitapura. After stating this, the goddess and a god by the name of Guliga travelled to Shonitapura to put an end to the demon's transgressions. When Darigasura went to the water to take a bath, Bhagavathi (another incarnation of Goddess Durga) disguised herself as an elderly woman and went to ask for alms. Taking advantage, Goddess Bhagavathi went to the palace and requested the ammunition of Lord Vishnu from Darigasura's wife, but she refused.
Read more about KALAVADY FARMS STAY