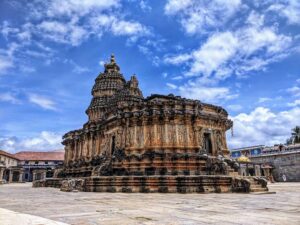 Sringeri, a well-known pilgrimage site, is situated in the Chikmagalur district of Karnataka, 79 kilometres from Udupi, 88 kilometres from Chikmagalur, 99 kilometres from Shimoga, 104 kilometres from Mangalore, 256 kilometres from Mysore, and 318 kilometres from Bangalore. It is one of the most well-known tourist destinations close to Mangalore and one of the major South Indian pilgrimage locations.
Sharada Peetham, one of the must-see locations on Sringeri tour packages, is well recognised in Sringeri. The first and foremost of the four Peethams founded by the revered saint Sri Adi Shankaracharya in the eighth century is Sringeri Sharada Peetham. The Western Ghats surround Sringeri, which is located at a height of 2789 feet on the banks of the River Tunga. Rishyashringa-Giri, a nearby hill named for Sage Rishyashringa, is the source of the name Sringeri. Sringeri received financial support from Tipu Sultan for the renovation of its temples.
According to folklore, Adi Shankaracharya once observed a cobra spreading its hood to cover a pregnant frog from the blazing sun when he was ambling along the Tunga River's banks near Sringeri. The Shankaracharya thought Sringeri was truly special after being moved by the cobra's generosity toward its natural opponent. As a result, he established Sharada Peetham here. In India, Sringeri Sharada Peetham maintains a number of Vedic schools and temples. Four Peethams were built by Adi Guru Sankaracharya in each of India's four directions. They are Kalika Mutt in Dwaraka in the west, Govardhana Mutt near Puri in the east, Sringeri Mutt in the south, Jyotir Mutt at Badrinath in the north.
The magnificent Vidyashankara Temple, which was constructed in the 14th century and is one of the most notable examples of Vijayanagar architecture, is another reason Sringeri is well-known. The 12 pillars of this temple are renowned for being claimed to correspond with the 12 signs of the zodiac. Additionally, the Sringeri temple was constructed using astronomical principles. The other well-known attractions of Sringeri include the Chennakeshava Temple, the Sharadamba Temple, and the Sri Parswanath Jain Tirthankara Temple. Other sites include the Adi Shankara Temple, the Kere Anjaneya Temple, the Malayala Brahma Temple, the Mallikarjuna Temple, the Torana Ganapati Temple, Kigga, the Sirimane Falls, Agumbe, and Kudremukh.
Mangalore Airport is the nearest airport, which is 101 km from Sringeri. Udupi Railway Station is the nearest railway station, which is about 79 km from Sringeri. Sringeri is well-connected by bus with Bangalore, Chikmagalur, Mangalore, Shimoga, and Udupi.
The best time to visit Sringeri is from September to March while the peak season is from October to February. Usually, it takes a full day to visit places in Sringeri.
Temple Timings: 6 AM – 2 PM & 5 PM – 9 PM