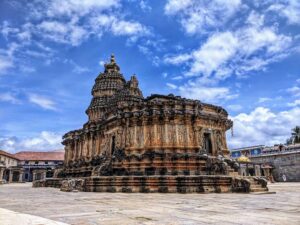 Shri Sharadha Temple Sringeri is a renowned Hindu temple located in the town of Sringeri in the Indian state of Karnataka. It is one of the most important pilgrimage sites for Hindus, particularly those who follow the Advaita Vedanta philosophy.
The temple is dedicated to Goddess Sharadha, who is believed to be the embodiment of knowledge and wisdom. The deity is depicted as a beautiful woman holding a book, a rosary, and a parrot. The temple is famous for its beautiful architecture and intricate carvings, which are a testimony to the skill and craftsmanship of the artisans of ancient India.
The history of the temple dates back to the 8th century when the great philosopher and saint Adi Shankaracharya established it. Adi Shankaracharya was a proponent of the Advaita Vedanta philosophy, which stresses the ultimate unity of all things in the universe. He established four mathas (monasteries) in different parts of India, and Sringeri was one of them.
The Shri Sharadha temple complex has several other shrines dedicated to various deities, including Lord Ganesha, Lord Shiva, and Goddess Saraswati. The highlight of the temple is the Vidyashankara temple, which is dedicated to Lord Shiva and Goddess Saraswati. This temple is a perfect blend of Hoysala and Vijayanagara architectural styles and is famous for its 12 zodiac pillars, each representing a sign of the zodiac.
Apart from its spiritual significance, the temple is also an important cultural and educational center. The Sringeri Matha, which is associated with the temple, is one of the most important centers of learning in India. It is known for its contributions to various fields, including Vedic studies, Sanskrit literature, and philosophy. Another interesting location to explore Bappanadu Durga Parameshwari Temple
The Shri Sharadha temple is located on the banks of the Tunga River, amidst the picturesque hills of the Western Ghats. The natural beauty of the surroundings adds to the spiritual ambiance of the temple. The town of Sringeri is well connected by road and rail, and it is easily accessible from major cities in Karnataka. Read more about Sringeri
In conclusion, Shri Sharadha Temple Sringeri is a unique and significant pilgrimage site for Hindus. It is not only a place of worship but also a center of learning and culture. Its beautiful architecture, rich history, and serene surroundings make it a must-visit destination for anyone interested in exploring the spiritual and cultural heritage of India.