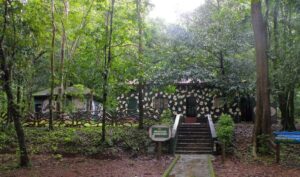 If you're a nature lover and enjoy exploring the great outdoors, you'll definitely want to add Anejhari Butterfly Camp to your bucket list. This beautiful destination, located in the heart of a dense forest, offers a peaceful escape from the hustle and bustle of city life and is home to a diverse range of flora and fauna, including some of the most stunning butterflies you'll ever see.
The Anejhari Butterfly Camp, which is surrounded by lush green trees, has been designed with the aim of promoting eco-tourism and educating people about the importance of conservation. It offers a range of activities for visitors to enjoy, including guided nature walks, bird watching, and butterfly sightings.
One of the highlights of the camp is the Butterfly Garden, where you'll find a variety of species fluttering around. From the elegant and vibrant swallowtails to the dainty blues and coppers, the garden is a feast for the eyes. You'll also have the opportunity to learn about the different types of butterflies, their life cycles, and their habitats.
In addition to the butterfly garden, the camp also offers a range of other activities for visitors to enjoy. For those who love hiking, the forest trails offer a peaceful escape, with towering trees and a lush canopy providing shade from the sun. For bird watchers, the camp is a haven, with a variety of bird species calling the area home.
Another highlight of the camp is the chance to experience the natural beauty of the surrounding area. From waterfalls to streams, the forest is filled with wonders waiting to be discovered. Visitors can also enjoy a picnic by the river, relax in a hammock, or simply take a stroll and soak up the tranquility of the environment.
If you're looking for a unique and immersive wildlife experience, Anejhari Butterfly Camp is the perfect destination. With its focus on eco-tourism and conservation, you'll be able to enjoy the beauty of nature while also learning about the importance of protecting it for future generations.
So, pack your bags, grab your binoculars, and head to Anejhari Butterfly Camp for a memorable and enlightening wildlife adventure.
The Anejhari Butterfly Camp offers an amazing opportunity to trek the
Kodachadri
 peak (10
th
 highest peak in Karnataka), a declared 
natural heritage site
 by the Government of Karnataka. Kodachadri forms the background to the famous temple of 
Mookambika
 in 
Kollur
, a visit to which is also a part of the many activities at the camp.Maravanthe and Byndoor are two beaches both of which are at a distance of around 35 km from the camp enhancing the entire experience for the guests. The in-camp activities include birding, butterfly watching and some adventure based activities (requires proper setup). To catch the fresh breath of soothing air, a visit to Arisinagundi falls can be arranged from the camp.
Read more about KALAVADY FARMS STAY