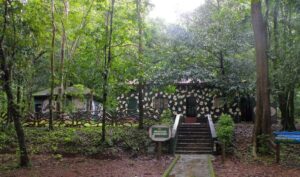 Amidst the undisturbed natural and lush green setting of the Mookambika Wildlife Sanctuary, the Anejhari Butterfly Camp promises an experience of a lifetime with the Souparnika river meandering gently by the camp and the sweet fragrance of the trees flowing in the air.
Anejhari Butterfly Camp is located near Kollur, about 80 km from Udupi. https://goo.gl/maps/ViBDTH5VXkp15ToaA
The camp offers an amazing opportunity to trek the Kodachadri peak (10th highest peak in Karnataka), a declared natural heritage site by the Government of Karnataka. Kodachadri forms the background to the famous temple of Mookambika in Kollur, a visit to which is also a part of the many activities at the camp.Maravanthe and Byndoor are two beaches both of which are at a distance of around 35 km from the camp enhancing the entire experience for the guests. The in-camp activities include birding, butterfly watching and some adventure based activities (requires proper setup). To catch the fresh breath of soothing air, a visit to Arisinagundi falls can be arranged from the camp.
Experience
On the Butterfly Trail, one might get an opportunity to watch butterflies of various hues and colours including Tamil Lacewing, Plain Puffin, Malabar Tree Nymph, Paris Peacock, Grey Count, Red Helen, and Blue Oak Leaf. There is a possibility that one may spot a Malabar Giant Squirrel, sambar, wild boar, Indian gaur, peacocks, barking deer, and other wild animals.
Birds, including Malabar Pied Hornbill, Malabar Grey Hornbill, Small Blue Kingfisher, Stork-billed Kingfisher and Asian Paradise Flycatcher, could be spotted at the camp. There is a children's play area also within the camp.
Season
The best period to visit the Anejari Nature Camp is from October to March