Barkur, the ancient capital of the Tulu Kingdom
Barkur was an ancient city, and was the ancient capital of the Tulu kingdom. It was known as Barakanur, and was once a major trade and commercial centre around 2nd century CE. Barkur was a capital of the Alupa Kings and also a provincial headquarters during the Vijayanagara period. It was a capital city in those times, which was developed much before Mangalore and Udupi. All that remain now of that historical city are just some ruins scattered all around Barkur.
Kattale Basadi Group of Temples
Enquiring the locals, we came to the place with the old temple with a sign board of Kattale Basadi, literally meaning the Dark Temple. A Jain Temple is also called as a Basadi. We entered the temple group, with the Kattale Jain Basadi in the front, and two Hindu shrines behind it, one a Shiva temple and another a Vaishnava temple. There is a small Nandi carved out of granite, before the Shiva temple. Nandi is the guardian deity of Kailasa, Lord Shiva's abode. These are declared as National Monuments by the Archaeological Survey of India.
These monuments are dated to sometime around 12th century CE, according to the Archaeological Survey of India.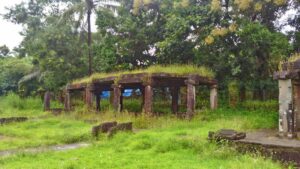 All three temples are in a walled compound built around it for its protection, along with some other structures inside, and a 20 feet monolithic stone pillar at the entrance. These temples are not architecturally very orante and have minimal carvings, designs or ornamentations on the stones.
The exterior walls are mostly plain with minimal carvings. But they are of historical significance as Barkur was an ancient city, and was the ancient capital of the Tulu kingdom.
The sad part is, there was no one to look after these national monuments, and some people were even playing cards, hiding behind one of the temple structures. There was a compound made all around, some little restoration works on the temples, but the grass grown interiors did not see maintenance since months (or years). There was grass and moss grown on Kattale temple too. This may be a very small place with small ruined temple structures, not very picturesque, but it is still a national and cultural heritage with thousands of years of history, and truly deserves better maintenance.