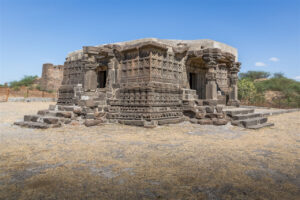 The Daria Bahadurgad fort, which was constructed by Basavappa Naik of Bidanur, is situated on one of the four rocky islands of Malpe Beach. This amazing island, which is only two kilometres from Malpe, is also home to factories that produce Mangalorean tiles close to the fort, making a day trip there to learn how these tiles are made an educational excursion.
The view from the fort, which is now mostly in ruins, is breathtaking, to say the least, and the ideal time to visit it is at sunset, when the entire horizon turns a variety of colours of pink.
One of the well-known islands in Malpe is the Daria Bahadurgad Island. Malpe in the Udupi district is well-known for its islands and beaches. These Malpe islands are visited by thousands of tourists each year. This island is the location of Daria Bahadurgad Fort. The island is little about 1.6 sq km wide and less than 250 yards long. The rocky island is small, but it is home to many beautiful landscapes. The Daria Bahadurgad fort is also close to a few well-known temples and a very old tile manufacture.
The fort was built many years ago by Basavappa Naik of Bidanur. Just a few miles to the west of Malpe Beach is the Daria Bahadurgad Fort. After arriving at the 8 km away Udupi Railway station, it is simple to get to Daria Bahadurgad Fort. From Malpe town to Daria Bahadurgad, there are boat services available, and the boat ticket is relatively affordable. From Udupi, Malpe is easily accessible by road as well.
Laccadive Sea as the setting
Timings: Always open.
There is no entry cost.
The fort is located approximately 10 kilometres away from the Udupi Bus Stand.