The camp is made up of houses that were constructed in primarily forested area with a river running through it. You can explore the numerous routes that wind through the forest. It is a stunning, lush location that is ideal for relaxing. The plentiful and good cuisine is an extra draw. Everything was lush and wonderful when we went during the monsoon. A little drive will bring you to Agumbe Sunset Point. Would adore returning to this hotel.
The Seethanadi Nature Camp in Udupi provides you with the ideal vacation from the chaos of the metropolis because it is surrounded by tranquil greenery. The camp gives you a variety of activities in addition to going on nature walks and being mesmerised by the wonders of nature. Being surrounded by the final low elevation rain forests on the entire western ghats and living inside the Someshwara Wildlife Sanctuary also helps you feel more in tune with nature.
About The Activity:
Check in to the resort and admire the surroundings that are laced with lush rain forests.
The nature camp is located on the banks of river Sita overlooking the Someshwara Wildlife Sanctuary.
Stay in the accommodation of your choice that will offer you convenience and comfort.
Relish on delicious meals that include breakfast, lunch and dinner and satisfy your taste buds.
Go for a bird-watching session at the campsite in the Sanctuary and get a chance to observe them closely.
Enjoy going on nature trails in the forest area with a trained professional guide.
Go for an exciting coracle ride in the nearby coracle ride in the Seetha Nadi with your companions.
Check out from the campsite and end your experience on a good note.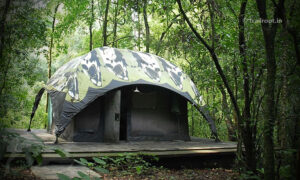 How to Reach?
The property is around 35 km away from Barkur railway station. This place is accessible through public or private transport.