St. Mary's Island is a collection of tiny, picturesque islands located to the north of Malpe Beach close to Udupi, 15 km from Udupi Railway Station, 65 km from Mangalore, and 100 km from Murudeshwar. It is among the top destinations included in Udupi Packages.
St. Mary's Island, a small island off the coast of Udupi, is one of the best spots to visit in the city because of its white sand beaches, rock monoliths, and abundant wildlife. Vasco da Gama is supposed to have discovered this island when looking for a sea route to India before arriving at Kappa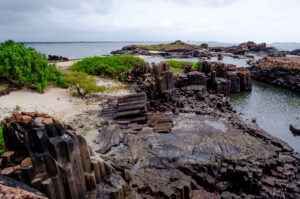 d Beach (near Calicut).
This island is a group of four individual islands namely Coconut Island, North Island, South Island, and Daryabahadurgarh Island. The island has two beautiful beaches and crystallized basalt rock formations which were created at the time Madagascar Island got separated from India. These unique rock formations scattered throughout the island giving a special landscape to the place. Watching the sunset standing on the crystalline rocks is one of the most alluring experiences on the island.
St.Mary's Island is 4 miles away from the coast and can be reached by 30 minutes boat ride from Malpe Beach. This island is uninhabited and there is no possibility of staying overnight there.
Ferry Timings from Malpe: 9.30 AM – 5.30 PM, Closed from June – September
Entry Fee: Rs. 250 for Person, Rs. 200 for Camera & Rs. 250 – 300 for Ferry